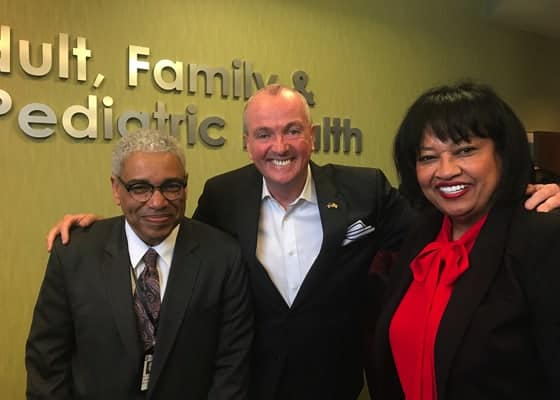 New Jersey Governor Phil Murphy announced his plan to lower health care costs during a conversation with SJFMC Chief Medical Officer, Gregory Collins, consumers, and cabinet officials. The Governor commended SJFMC's efforts in reducing cost and making health care available for everyone. Governor Murphy said, " Southern Jersey Family Medical Centers is a gem in the state in the access it provides but that is not consistent across the state our challenge is to make it as good as it is but as affordable and accessible as possible."
With this goal in mind, the Governor has created a new Office of Health Care Affordability and Transparency. The office will be charged with working across all state agencies to develop a strategic plan for "consumer affordability, health care quality, cost transparency and taxpayer savings," the Governor's Office said.
SJFMC Chief Medical Officer, Dr. Gregory Collins, emphasized the importance of driving consumer costs down. Dr. Collins also discussed the need for more primary care physicians, among other specialties, given the current shortage.
"Patients are making choices between buying food for their families and taking care of themselves. At SJFMC, we provide comprehensive, coordinated cost-effective healthcare. We also educate our patients and inform them of ways to be self-sufficient in their care because we know that if we educate our patients we can drive down the cost of their medical expenses in the long term." said SJFMC Chief Medical Officer, Dr. Gregory Collins.