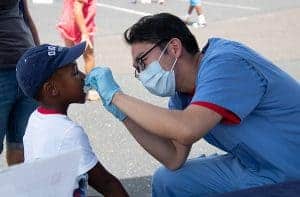 SJFMC observed National Health Center Week August 4-10 with a series of successful community events. With the theme of "America's Health Centers: Rooted in Communities," the week was an opportunity for SJFMC to celebrate its own health center heroes with luncheons at our eight centers. At these "Honoring Health Center Heroes" events, we applauded the staff winners, nominated by their peers through state-wide elections, who demonstrate the values of our organization. Check out our page for a list of winners.
We also held four community health fairs to celebrate National Health Center Week. The fairs included free immunizations, dental screenings, blood pressure and glucose testing, entertainment, community partners, back-to-school book bag giveaways, food and much more in all three of the counties we serve: Burlington, Atlantic and Salem.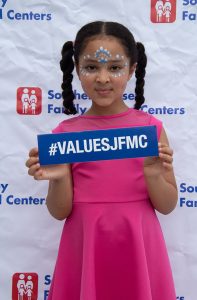 Our SJFMC Pleasantville event at the Merle Pavilion attracted 150 people  and our event in Salem attracted about 100 residents. We culminated the week with two health fairs in both Burlington and Atlantic Counties. Elected officials showed their support for our mission at our  Burlington City Center event that attracted more than 200 patients and community partners. Our Atlantic City sites hosted more than 250 attendees.
Thanks to all our managed care organizations, Aetna, Horizon NJ Health, United Healthcare, WellCare and Amerigroup, for providing monetary donations and outreach services. We also appreciate all of our community partners and SJFMC employees and Health Center Heroes who supported our efforts. Go TEAM!